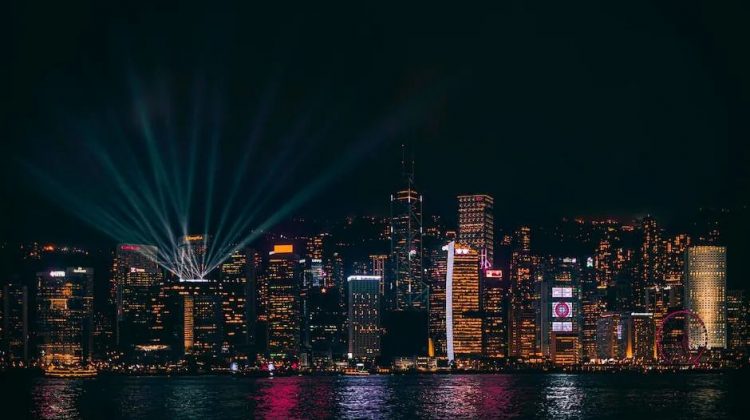 China Resumes 144-Hour Visa-Free Transit Policy for Foreigners
On March 13 and 14, 2023, Chinese embassies and consulates in multiple countries issued statements that from March 15 onward, China would resume all types of visas for foreigners, including the visa for tourism and medical treatment, port visa, and multiple visa-exemption policies.
Meanwhile, valid multi-year multi-entry visas that were issued before March 28, 2020, by overseas Chinese visa authorities shall resume function, meaning that foreigners that already have this type of long-term visa (such as the 10-year business or tourist visa) can now enter China without additional visa application – provided it is still within the validity period.
Upon the removal of one of the last travel restrictions imposed under the previous "zero-COVID" policy, foreign travelers responded quickly, and we have received a lot of inquiries about China's latest visa policy, especially the 144-hour visa-free transit policy that has long been welcomed by inbound travelers.
Actually, the 144-hour visa-free transit policy has gradually been resumed since January, when China downgrade COVID-19 from Class A management to Class B management. For example, Shanghai Port welcomed its first 144-hour visa-free transit passenger on January 10, 2023.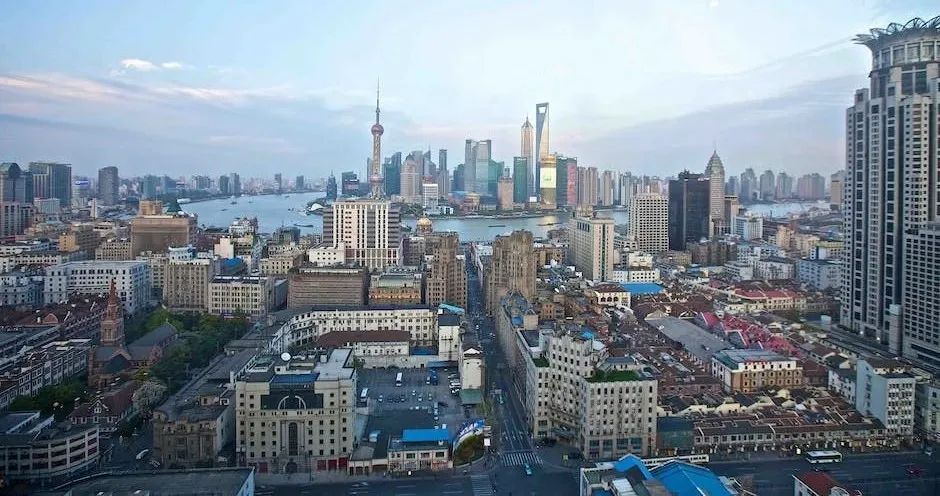 In this article, we explain how this 144-hour visa-free transit policy works and summarize some frequently asked questions.  
What is the 144-hour visa-free transit policy?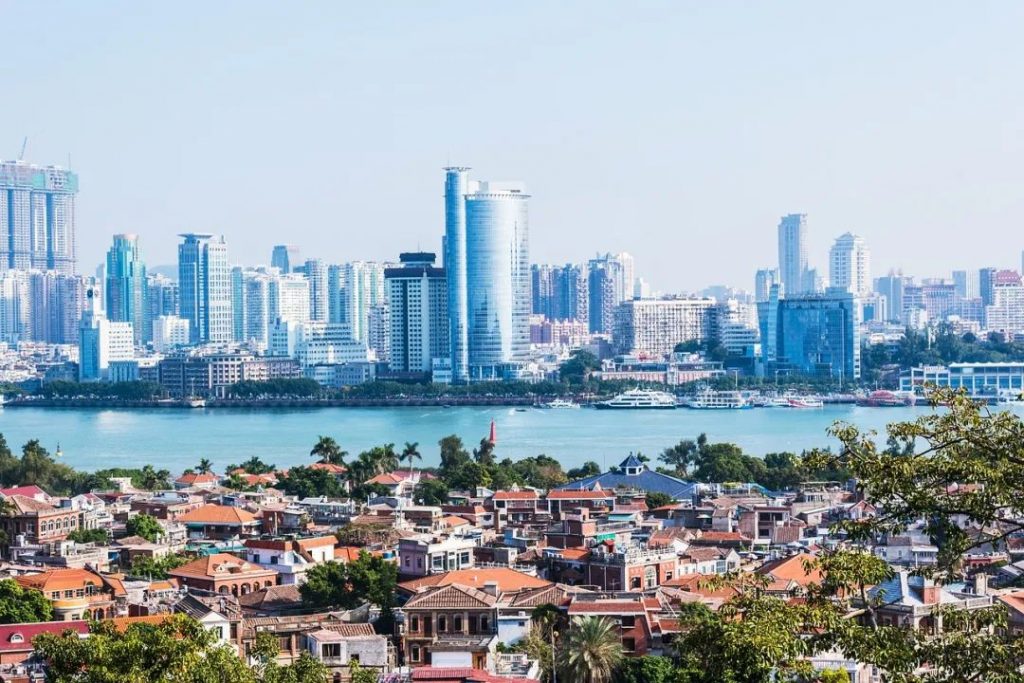 The 144-hour visa-free transit is one of China's visa exemption policies provided to eligible foreigners coming from selected countries.
Under the 144-hour visa-free transit policy, foreign travelers can enjoy a six-day stay in certain Chinese cities without a visa, provided they come from 53 eligible countries, enter and exit China from eligible ports, stay within the allowed cities and regions, as well as satisfy other requirements.  
Which countries' citizens are eligible for the 144-hour visa-free transit policy?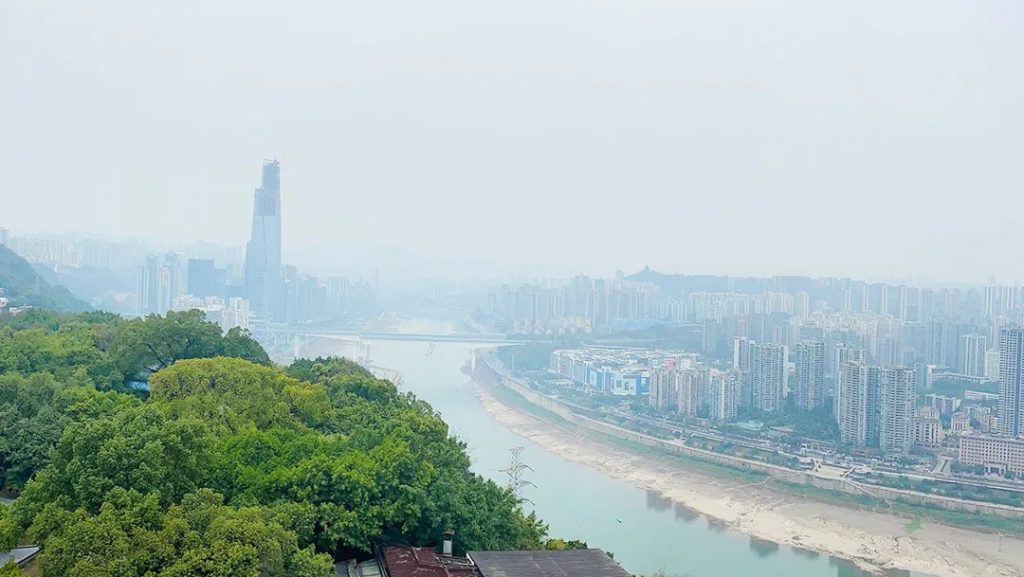 To obtain this visa exemption, the foreign national must have a valid passport from one of the 53 countries, which includes:
24 countries in the Europe Schengen area: Austria, Belgium, Czech Republic, Denmark, Estonia, Finland, France, Germany, Greece, Hungary, Iceland, Italy, Latvia, Lithuania, Luxembourg, Malta, Netherlands, Poland, Portugal, Slovakia, Slovenia, Spain, Sweden, and Switzerland.
15 other countries in Europe: Russia, United Kingdom, Ireland, Cyprus, Bulgaria, Romania, Ukraine, Serbia, Croatia, Bosnia and Herzegovina, Montenegro, Macedonia, Albania, Monaco, and Belarus.
Six countries in the Americas: the United States, Canada, Brazil, Mexico, Argentina, and Chile.
Two countries in Oceania: Australia and New Zealand.
Six countries in Asia: South Korea, Japan, Singapore, Brunei, the United Arab Emirates, and Qatar.
What are the requirements for the 144-hour visa-free transit policy?
As per the requirements of China's National Immigration Authority (NIA), people applying for 144-hour visa-free transit must have:
A valid passport or another international travel document that is valid for more than three months from the arrival date;
An interline ticket (connecting ticket) with the confirmed departure date and seat number leaving for a third country or region within 144 hours; and
The landing card for foreigners in transit that is filled out upon arrival in China.
You may also be required to answer some questions at immigration control upon arrival.  
Which cities can you travel to during the 144-hour visa-free transit?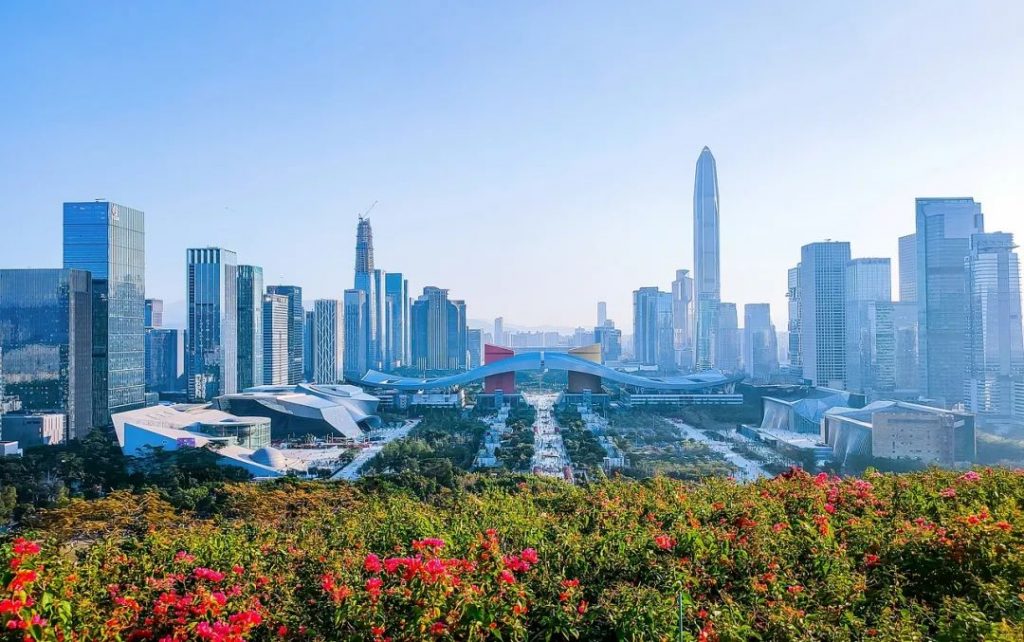 Despite the name, the 144-hour visa-free transit policy does not mean you can travel to any city in China. The places you can travel to depend on your exact port of entry.
First introduced to three cities in East China's Shanghai-Jiangsu-Zhejiang area in 2016, the 144-hour visa-free transit policy has expanded to 20 cities involving 29 ports. The eligible cities, corresponding entry ports, and scope of permitted travel areas are listed in the table below.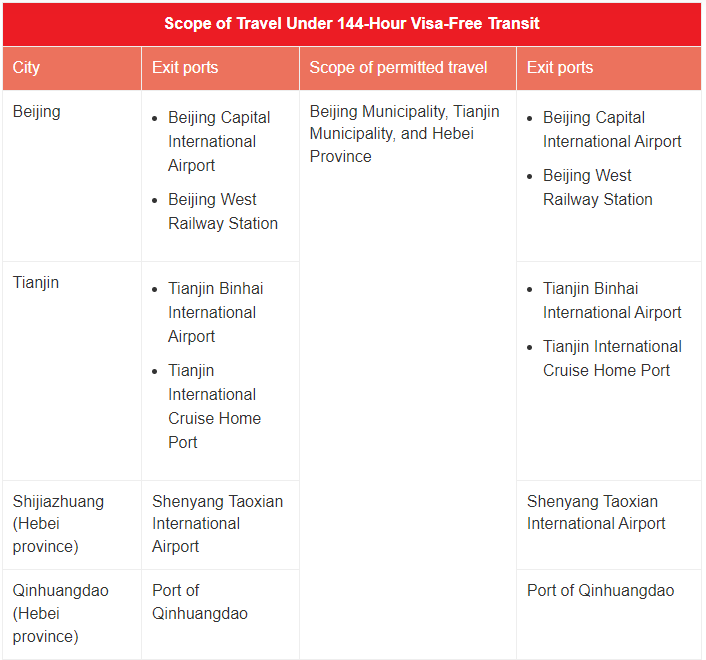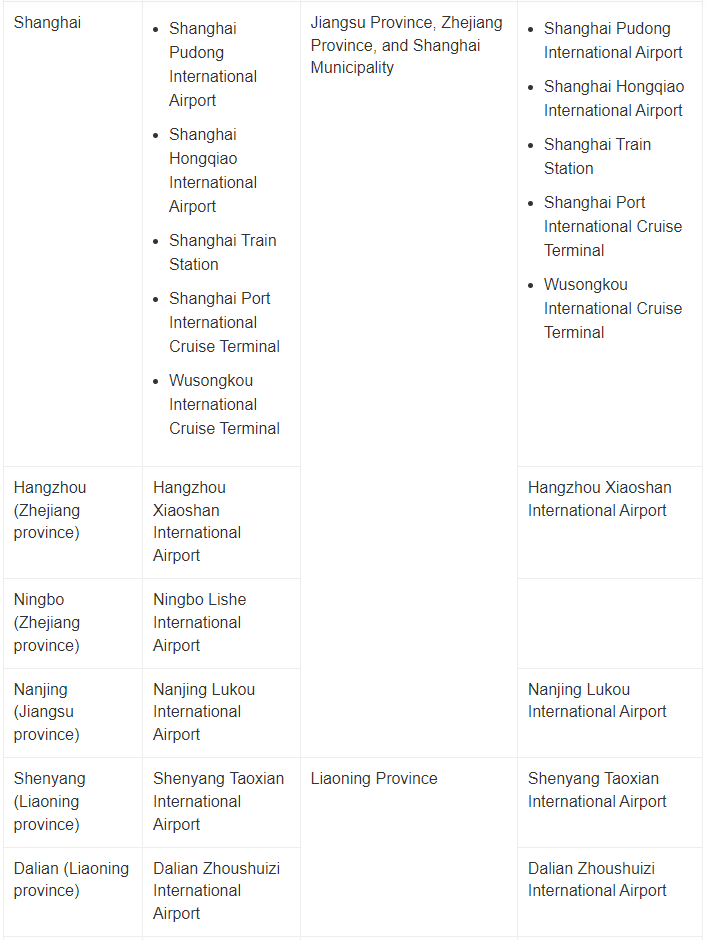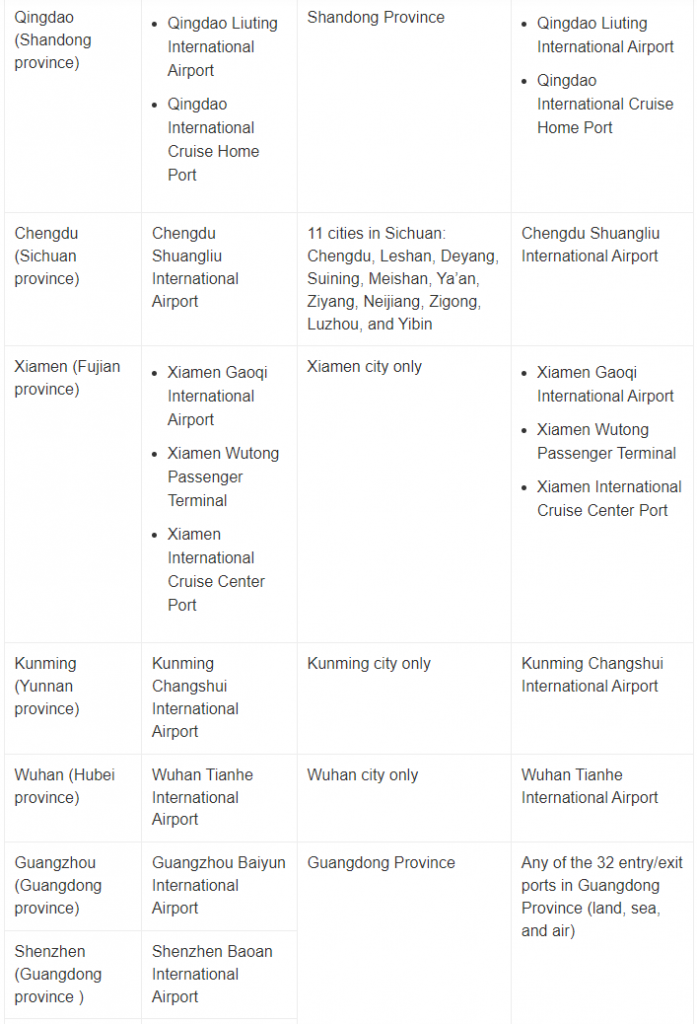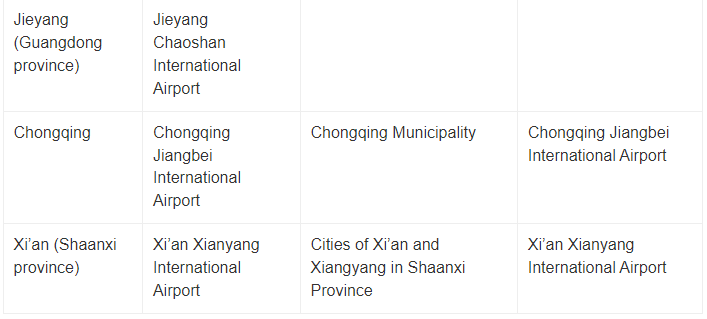 It's important to note that in most cases (except in Guangdong Province), you will be required to exit the country through one of the same ports that are permitted for entry. In most cases, this will be the same port as the one you arrived through. 
It is therefore important to pay attention to the permitted arrival airports, railway stations, or cruise ports for both entry and exit when planning your trip, and to make sure that your itinerary during your stay in China is within the permitted areas, to ensure you do not inadvertently cross into an area where you are not permitted or exit the country illegally.
Under what circumstances can the 144-hour visa-free transit be denied?
The immigration officers at the border may refuse to issue you a temporary entry permit in any of the following circumstances:
If you are not allowed to enter China under Chinese laws or administrative regulations;
If your passport or other international travel document is expiring in less than three months, or contains a previous stamp of rejection by a Chinese visa-issuing agency;
If you have previously illegallyentered or exited China, illegally resided in China, or illegally worked in China in the last five years;
If you have a record of violating accommodation registration regulations in the last two years, and the circumstances were considered "severe";
If you are not going to a third country after leaving China as the visa-free transit policy applies only to travelers bound for a third country and therefore transiting through China.
The 144-hour visa-free policy is not applicable to crew members of international aircraft or ships or their accompanying family members.