China has become one of the largest markets in the world, an attractive place for investment.
The investment consultants are familiar with different kinds of industry practices and capable of offering assistance with business incoporation and secretary services. The consultants of Elite Stage are familiar with different kinds of industry practices and capable of offering assistance with business registration, secretary, maintenance, and permits application.
In Beijing,Suzhou, Shenzhen, Guangzhou, Hong Kong, or Shanghai Free-Trade Zone, Elite Stage is all ready to help clients localize in the Chinese market. Our international team of consultants are experts at company laws, taxation, HR outsourcing in China, and will provide the necessary knowledge and guidance to help your business development.
Nationaux d'Enregistrement de la Société en Chine Continentale
Le soutien gouvernemental à l'Adresse de l'application
Initialization consultation on Tax, HR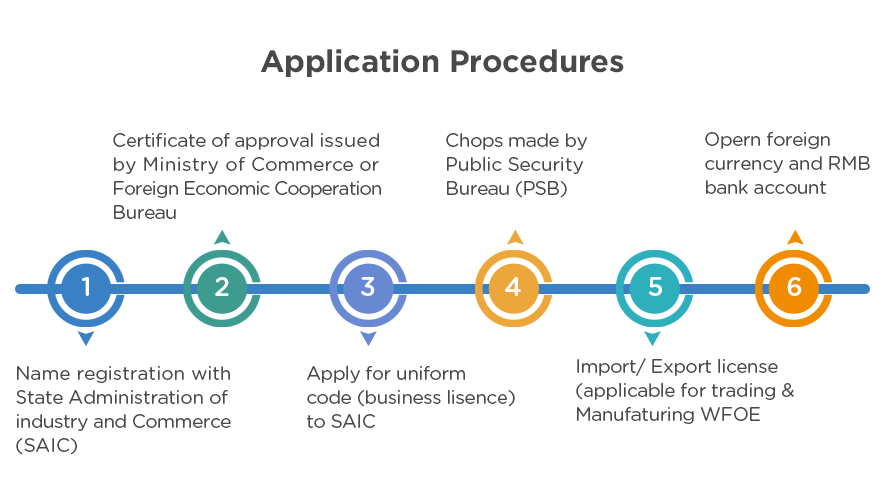 Enjoy domestic advantage and could operate in special industry like finance, issurance, ICP etc.
Enjoy tax benefits and  subsidies.
WFOE Registration in China
La Filiale Étrangère à l'Entreprise est une société à responsabilité limitée détenue en totalité par les investisseurs étrangers, à savoir des entreprises en Chine, qui est détenue à 100% par des investisseurs étrangers investisseurs.
1.Independence and freedom to implement the strategies of its parent company without having to find local partner
2.Ability to carry out business rather than just functioning as a representative office
3.Issuing invoices to clients in RMB and receiveing revenues in RMB
4.Capability of converting RMB profit to USD for remittance to its parent company beyond China
5.Protection to its intellectual know-how and technology
6.Full control over work permit and visa
7.Greater efficiency in operations, management and future development.
1.Name registration with State Administration of industry and Commerce (SAIC)
2.Apply for a uniform credit code (business license) to SAIC
3.Chops made by Public Security Bureau (PSB)
4.Open foreign currency and RMB bank account
5.Import/ export license (applicable for trading & manufacturing WFOE)
1.Provision of the investors documents notarized and authenticated by local notary public and Chinese embassy in belonging country (2 originals)
2.Clear Passport copy and scan of all board members, supervisor(s)(If setup board of member, 1 copy)
3.The 2 copies of the passport of the legal representative and the supervisor, the legal person should has China visa page, if not, (notarized and authentication by local notary public and Chinese embassy, 2 originals)
4.Letter of appointment to New Company's board members, supervisor(s) (signed by investor, original, 2) (JV must set up the board of member, there should be at least 3 members);
5.Leasing agreement (original, 2) and ownership certificate (copy and stamped by landlord, 2 copies), landlord ID copy with signature or company license with company stamp (2originals)(If registration address is offered by Elite Stage)
6.POA for signature(if investor authorizes other person to sign, the Authorization Letter to be notarized and authentication by local notary public and Chinese embassy, 5 originals
7.Governmental forms( signed by Legal rep of both investor and new entity)
8.New WFOE's Articles of Association (2 originals, signed by Legal Rep of Investor)
Hong Kong D'Enregistrement De La Société
Hong Kong a longtemps été un centre de la finance et des affaires. L'infrastructure bien développée, une fiscalité attractive et très scolarisés professionnels disponibles à la location sont quelques-uns des mérites pour le développement de Hong Kong.
Additionally, it allows one to operate in the Asian economies and serves as an access to the Chinese market. Elite Stage team of expert advisors can provide you with the support required when going through the process of setting up a company in Hong Kong and maintaining it leagally.
1.Politically stable with supportive policy
2.Skilled Workforce
3.Open business environment with easy start
4.Simple, low and competitive tax system
5.Premier Business Hub with Free Market Economy
1.Collect and guide all the required documents
2.Deliver application
3.Handover Hong Kong company certificates
4.Guide the company bank account opening
Investisseur individuel, en tant qu'Actionnaire
Remplissez le QA formulaire KYC et d'autres formes connexes, que nous avons préparé
Identification des actionnaires (les Étrangers: copie du passeport Chinois: carte d'identité)
Un justificatif de domicile de tous les administrateurs et les actionnaires (Copie + Original); le nom de personne est mise sur le justificatif de domicile, au cours des derniers trois mois, peut être relevé bancaire/facture d'eau/électricité, facture de téléphone mobile/projet de loi/licence de pilote. Vous pouvez fournir la preuve d'adresse en Chine ou dans tout autre pays où vous vivez.
Société de l'Investisseur en tant qu'Actionnaire
Identification des actionnaires: certificat d'Entreprise de l'incorporation 
Structure de société de carte (Divulguer le bénéficiaire jusqu'à la personne) 
Un justificatif de domicile de tous les administrateurs et les actionnaires (Copie + Original); le nom de personne est mise sur la preuve d'adresse, dans les dernières trois mois, peut être relevé bancaire/facture d'eau/électricité, facture de téléphone mobile/projet de loi/licence de pilote. Vous pouvez fournir la preuve d'adresse en Chine ou dans tout autre pays où vous vivez.
Remplissez QA forme+ KYC et d'autres liées formulaire préparé par nous
Enregistrement de la société dans d'Autres Pays Offshore
Singapour
Iles Vierges Britanniques
Îles Caïmans
Delaware
Labuan
Îles Marshall
Samoa
Seychelles
Amérique
Macao